BUT being happier WILL drastically change YOUR life
The Happiness Reset is a 6-step process that elevates all areas of your life to feel happier so that you take more positive action and create the success that you want to see.
Imagine seeing the life you really want to live unfold as a result of you being your happiest self, instead of it feeling so hard all of the time.
Do any of these sound like you?
The next
starts Saturday April 15th 2023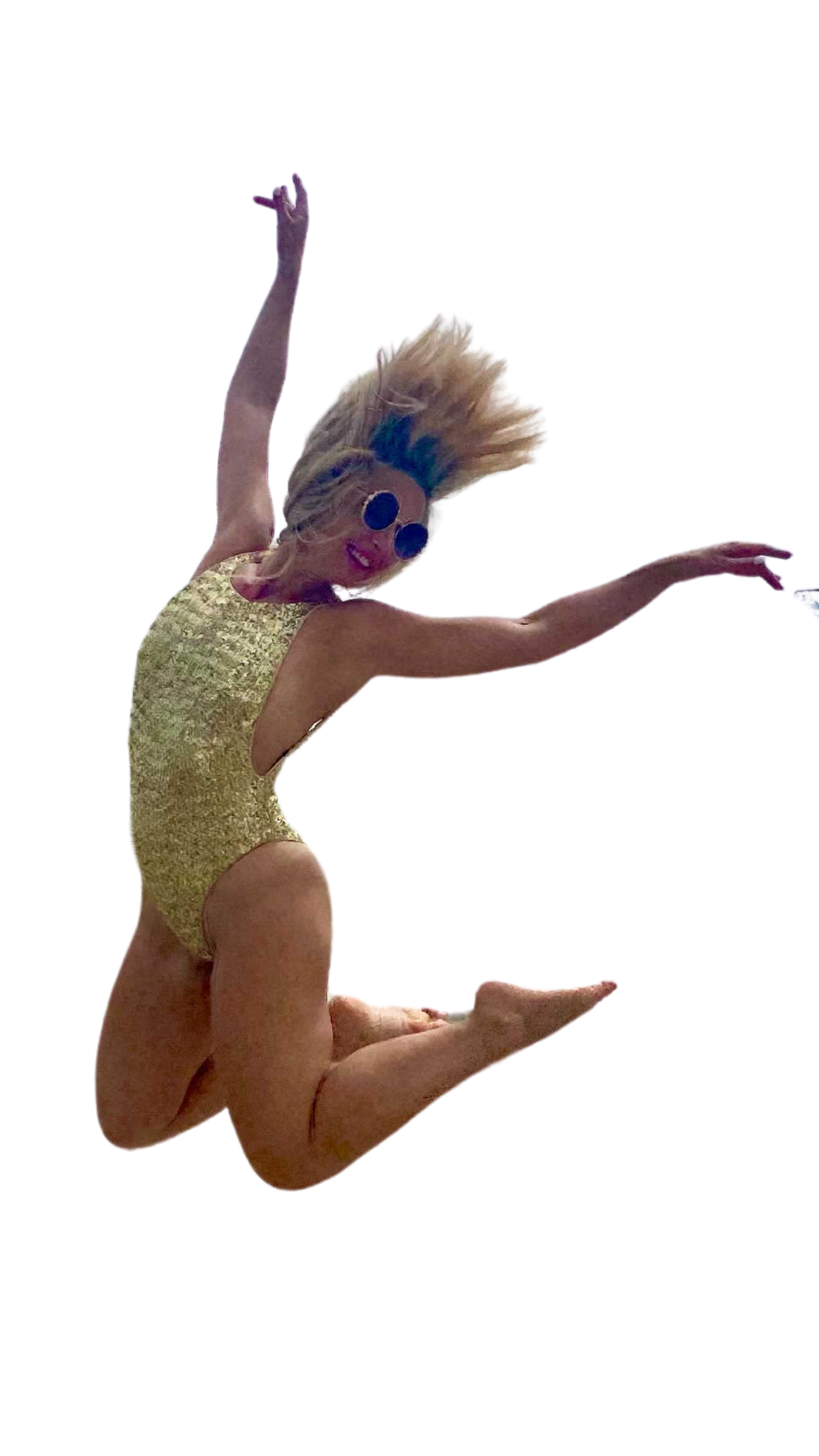 It only takes small changes to make a difference towards living YOUR very best life.
So we often put time, energy and money into things that ultimately leave us feeling flat, unhappy and wanting more.
The good news is that happiness is available to you. There is more out there for you, but it's not 'out there,' it's within you.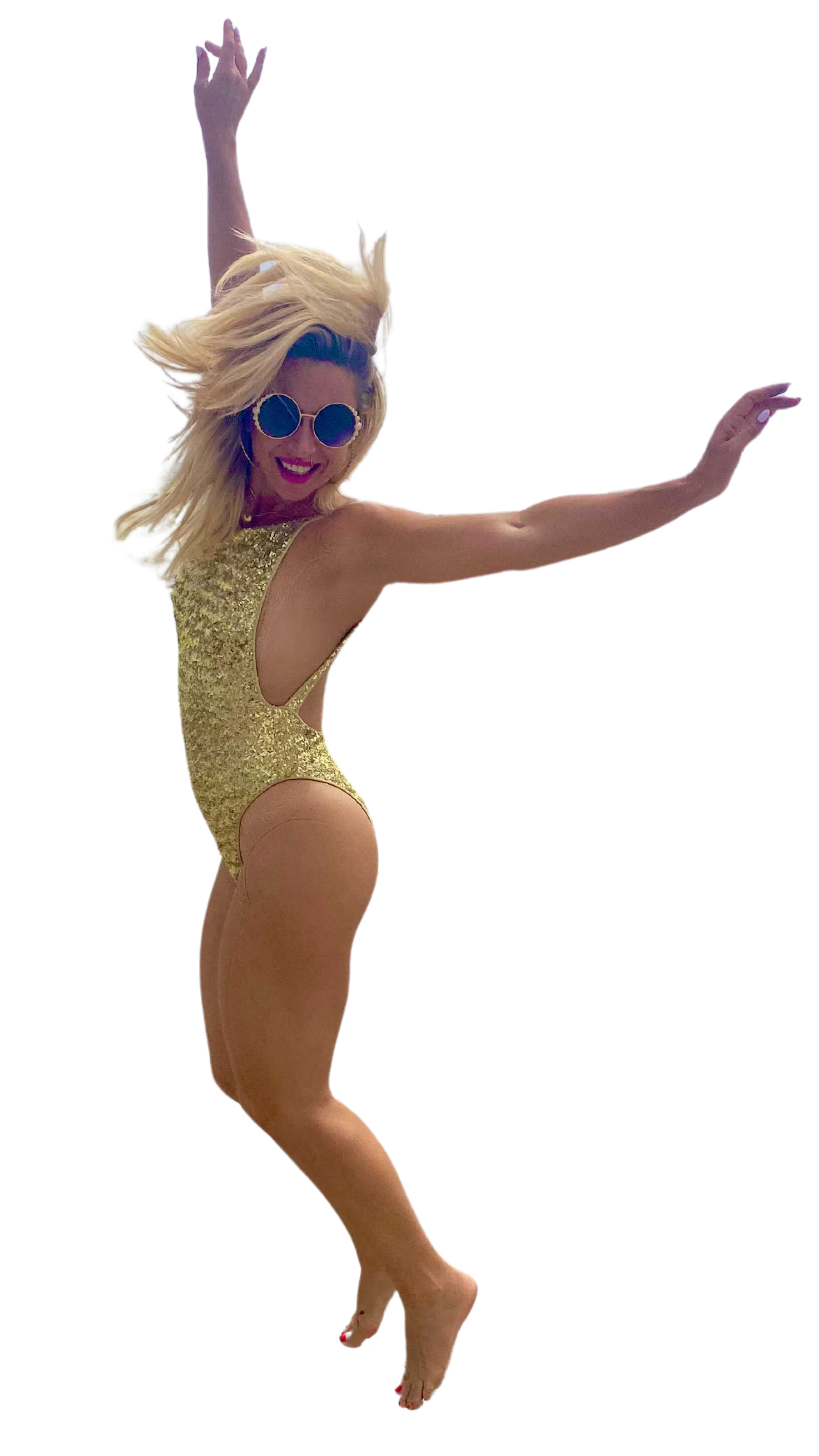 You want the tools to be able to take control of your life?
This course is the education that you should have been taught at school. Imagine how your life will change once you know how to:
Seven days. Six Steps. A lifetime of wisdom.
There are six happiness blocks that rob you of the happiness that is rightfully yours.
Each block is a fear that will secretly sabotage you from creating success in your life.
Over 7-days you will discover the block that is strongest in your life and how after uncovering it, it can be used to drive positive change in your life.
I will show you how.
Block 1: The Fear Of The Unknown

This block shows up as not knowing what to do in your life and feeling stuck at a crossroad. In this step we focus on how to create a vision whilst staying present in the now, so that you know what you want and  feel excited, without this fear sabotaging you.

Block 2: The Fear Of Not Being Good Enough

This block shows up as having low self worth and and not speaking to yourself kindly. In this step we will focus on how to have an amazing relationship with yourself so that you do what is best for you, without this fear sabotaging you.

Block 3: The Fear Of Being Wrong

This block shows up as the feeling that you're not living your life for you and a difficulty in making decisions. In this step we will focus on how to master your mind and what you think, so that you feel in control of your life, without this fear sabotaging you.

Block 4: The Fear Of Being Judged

This block shows up as people pleasing and drama in your life. In this step we focus on how to validate yourself and have personal power so that you have the energy to make empowered choices, without this fear sabotaging you.

Block Five: The Fear Of Failure

This block shows up as procrastination and going around in circles. In this step we will focus on how to take positive action so that you can move forward in your life, without this fear sabotaging you. 

Block 6: The Fear Of Change

This block shows up as feeling anxious and worrying about the future. In this step we focus on how to be guided by your intuition, so that you can trust yourself and your life without this fear sabotaging you.
What past students have to say
YOU MIGHT HAVE SEEN ME IN: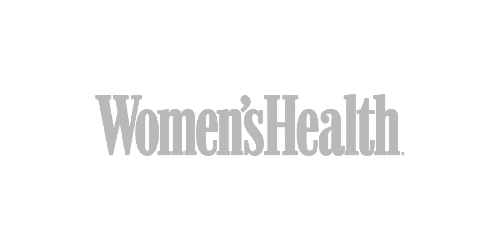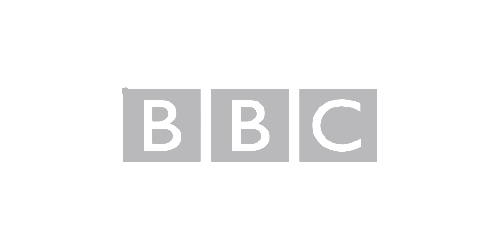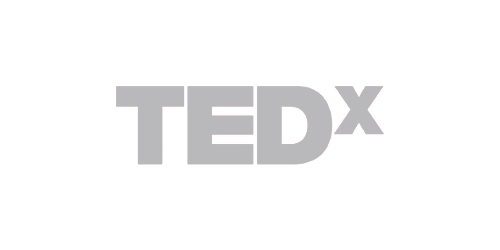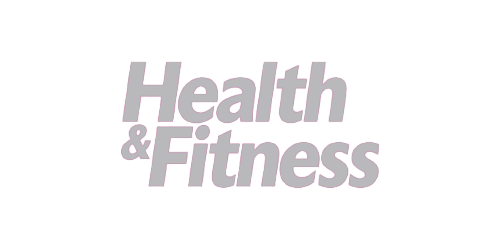 Join Lydia Live For 7-Days And Change Your Life
This is the most uplifting, soul shaking 7-day online experience you can gift yourself right now. 
Imagine joining a supportive group of fellow Happiness Explorers for live daily classes with Lydia that will move you so deeply to change who you are, you take positive action that transforms your life from the inside out.
You must be ready to challenge yourself to a new way of thinking that creates only positive outcomes.
You must be prepared to put the effort in – because you are worth the hard work and the effort.
You must want 7 days of emotionally invigorating and uplifting insights that blow your mind.
Next Course Dates:
The next live programme runs Saturday the 15th April for 7 days.
The live classes run daily at 12.45pm GMT time for 90 minutes and all classes are recorded so if you can't make them all, you can watch the recording.
7 x High energy and invigorating, live 90-minute, Happiness Reset group classes with Lydia

Live guided visualizations that find you clarity, direction and focus for change

Daily tools and exercises with accountability and support to get out of your comfort zone and take action

7 Morning MP3's to prepare for class and progress sheets to follow and complete during class

The chance to receive live coaching from Lydia

Instant access to the online programme
Been offered surprise promotions
Met the love of their life and been proposed to
Lost stubborn weight to love their body
Turned inspiring ideas into successful businesses
Given up sugar, alcohol and impulse shopping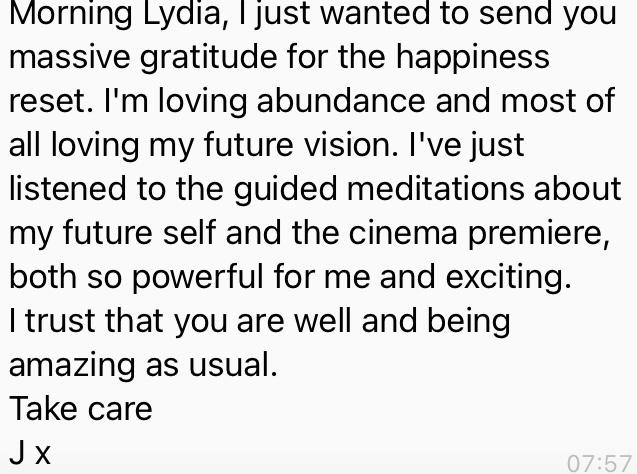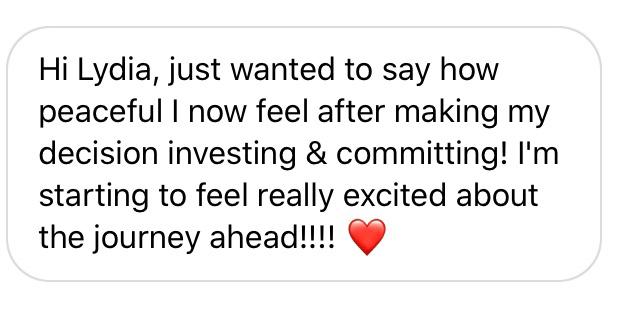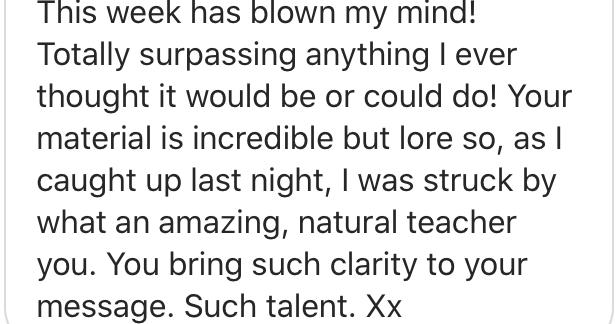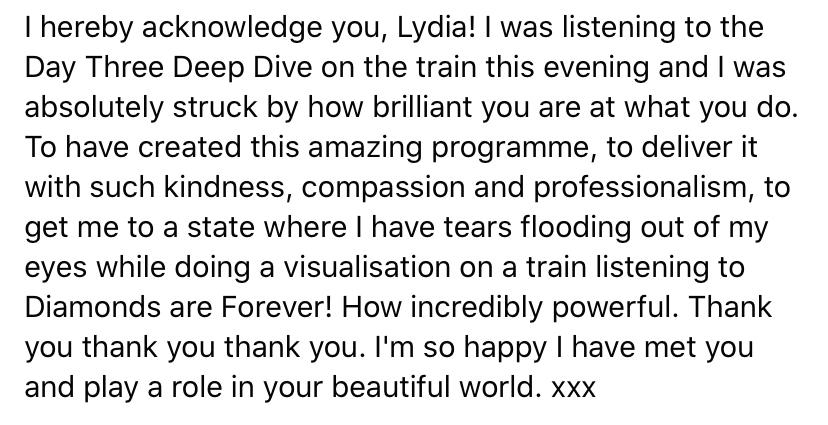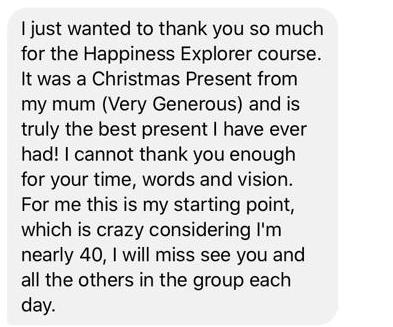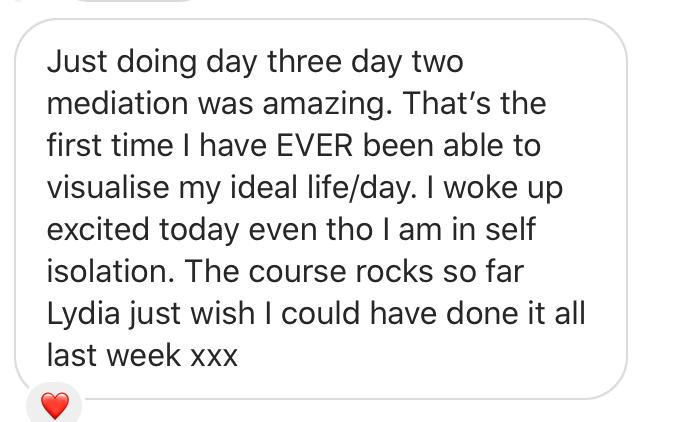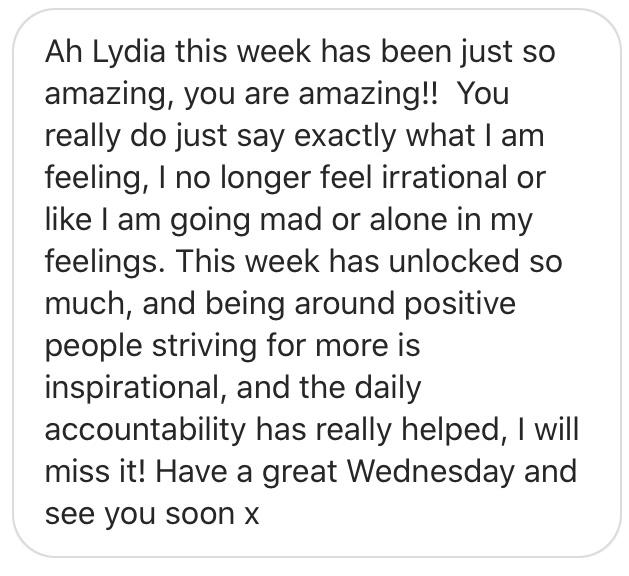 FREQUENTLY ASKED QUESTIONS
You are going to learn how to set yourself free from the unseen limits you have placed on yourself, that are holding you back from feeling your happiest, creating success and being at peace with yourself.
Lydia teaches from proven life coaching tools, spiritual principles and learned experiences that will crack you open and give you life force to really live your life.
Plus you will identify the number one block that keeps sabotaging you so that you can quickly identify why it's getting in the way and how to overcome it.
You will learn how to:
Uncover what you really want from life and how to work towards it
Why you don't love yourself and how to become your biggest fan
What thoughts and beliefs you have that are making you feel trapped in your life
How to stop giving your power away to people places and things and finally put yourself first
Why you keep procrastinating and never take the full action required to see success
How your intuition is trying to guide you and why you have not been listening
Happiness Block One: Fear Of The Unknown
Become a visionary for your life and VISUALISE YOUR FUTURE by letting go of the how and just saying YES.
Happiness Block Two: Fear Of Not Being Good Enough
Become your biggest fan and RAISE YOUR WORTH so that you're the person you value the most in your LIFE.
Happiness Block Three: The Fear Of Being Wrong
Become the ruler of your reality and MASTER YOUR MIND by learning that YOU ARE NOT your thoughts.
Happiness Block Four: The Fear Of Being Judged
Become a force for good in your life and OWN YOUR POWER by saying no, without feeling GUILTY.
Happiness Block Five: The Fear Of Failure
Become a fierce action taker and TAKE ACTION NOW by overcoming procrastination, for GOOD.
6

.

Happiness Block Six: The Fear Of Change
Become your own guru and TRUST YOUR INTUITION by following your INNER GUIDANCE.
If you do nothing, nothing will change.
You have lifetime access and can take the programme every time it runs live.