ICF Associate Certified Coach
What I know to be true is that it is never too late to make a change. Or several changes, for that matter. It can come in the form of a massive life shift. Or it can come in the form of small incremental changes that inevitably leads you to a completely different destination. A ship only needs to turn by one degree to end up at a different place.
Coaching helped me identify my true passion and helped me understand that I could make a career out of my innate skills.
I started to view a lifetime of reading self-help books as something purposeful, something with meaning.
In 2018 I began the joyful process of turning my life around, of changing my ship's course. I embarked upon the twelve steps of recovery, which I use as the basis of my coaching.
I have been free from alcohol for over four years now and I have become so happy that I don't even want to drink anymore. It is complete emotional freedom and it's beautiful.
Life gets better every day. I believe in magic and miracles, in that, there is magic in the every day and there are miracles in a change of perspective.
As the late Wayne Dyer said, 'When you change the way you look at things, the things you look at change'.
I am a recovering people pleaser / perfectionist / over-thinker / worrier. I have learned to tap into my intuition and start to trust myself. From worrier to warrior via the twelve steps of recovery.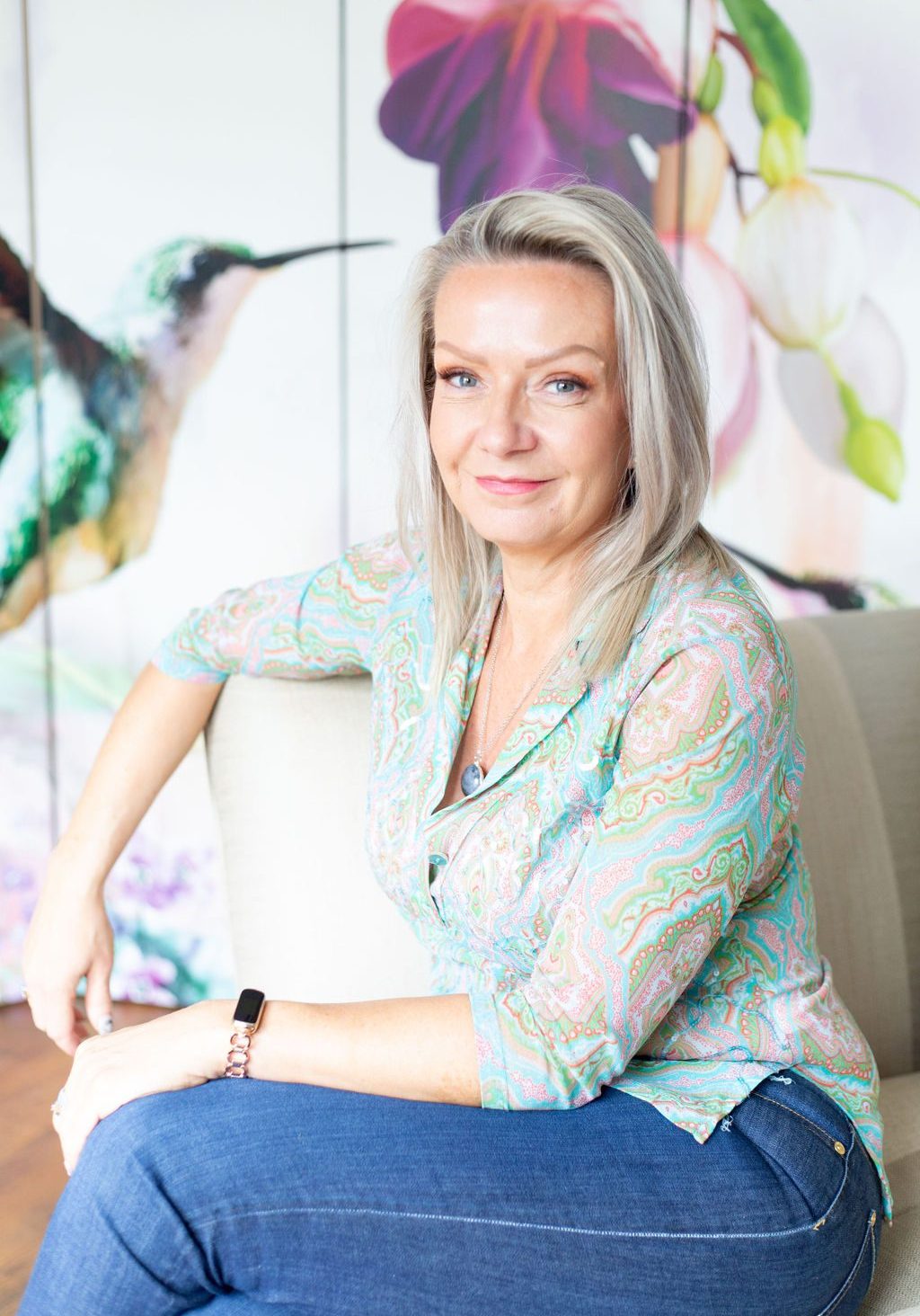 Favourite self-care practice
I love to walk and while I often do the same route, it always differs as I will always listen to a podcast or audio book along the way. Gathering knowledge about how we as humans work is my new addiction since giving up alcohol. Whether that is knowledge of the physical or the spiritual, learning while walking is my favourite pastime
I have years of experience in the corporate world. I know what it is like to feel like you're doing OK but could be happier and more fulfilled.
I help women get very honest about what is standing in their way, surface those self-sabotaging behaviours and then put the steps in place to put an end to them, one day at a time. You can decide who you want to be next, in the next phase of your life.
I will help you identify if there are elements of your lifestyle that are holding you back. We will pinpoint how you self-sabotage and then build strategies to help you stop those behaviours. I will help you discover what is standing in your way and then remove those barriers, to live a healthier, happier, and fuller life.
I will help you find peace. Not peace of mind, but peace from mind. If you're a peaceful person everything you do will be a happy activity. The real prize is freedom. Freedom from addiction, freedom from the cycle sabotaging thoughts.
KIND WORDS FROM MY LOVELY CLIENTS
"It's been an absolute delight working alongside Lisa over the past few months, and I feel that we've covered a lot of ground during that time. We've been working on facing fears around the changes I want to make in my career. She's helped me reframe the internal dialogue I battle with, which can often wreck my plans and make me feel like an imposter. Lisa listens and really hears me, but it's more than that. It's almost like she sees into my soul and my dreams and my desires, and she pushes me to make those dreams come true with her words of validation that I am capable of everything I want out of life. Working with Lisa will make you feel like you have someone in your corner, someone that has your back, someone to give you that drink of replenishing water, words of confidence and praise, someone that is rooting for you to win whatever your "battle" is. She's also really good at calming you down if things become a little overwhelming – as was the case during one of my sessions. I went from crying and being unable to breathe properly at the beginning of the session, to laughing and feeling completely like me by the end. And this is the magic of Lisa. Being accountable to Lisa encourages me to make the changes we have discussed in our sessions. She checks in to see how I'm progressing and asks if there's anything else she can help me with, and sees things I miss. Important things. Things that will undoubtedly change my life for the better. In a very large nutshell – life coaching with Lisa has really improved my life, and I'm looking forward to more of these empowering and supportive coaching sessions throughout the coming months."
"Just over 7 months ago, my life felt stuck and at a crossroads. I was exhausted, overwhelmed but I also felt unfulfilled. I had really lost my mojo. I knew my number 1 goal was to give up drinking. Since being a teenager, I'd always used alcohol as a crutch. To help with social anxiety, to appear more fun, to celebrate, to relieve boredom, and also to numb the pain when I was suffering emotionally. I knew at the age of 43 something had to change. I wanted to get up early at weekends, go for walks, exercise more and pursue hobbies. I met with Lisa via Zoom and felt an instant connection. Lisa was so kind and really understood me. My first goal was to give up alcohol, which I have now achieved. Today I am 7 months alcohol free. During this time, I've healed and the future feels much brighter. Through my coaching sessions with Lisa, we have worked on transitioning into a new career. I have established a better work/life balance by setting clear boundaries at work so I don't feel completely drained. I also have a much better daily routine which includes more time for me. My pot is feeling much fuller! Lisa's is so supportive, encouraging and really takes time to listen. Lisa has helped me to turn my life around and I'm so grateful!"
"You gave me to support and tools to believe in myself, more than I have ever done before. On my journey with you, Lisa, I started to trust myself, love myself and be proud of myself. You gave me the power within myself to recognise when the self-doubt and second guessing was starting to creep in and to be able to go with my gut instinct. You gave me the ability to reflect back on myself, see what I wanted for my life and to go and grab it with both hands. I will never take second best, I will never not let my voice be heard, I will never lose me again."